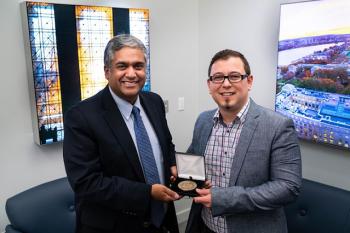 November 7, 2018
Omer Tanovic, a PhD student at the Laboratory for Information & Decision Systems, has been named the recipient of the MIT School of Engineering Graduate Student Extraordinary Teaching and Mentoring Award. This eminent award is given annually to a distinguished graduate student in the MIT School of Engineering who has demonstrated exceptional mentoring as a teaching or research assistant.
Omer received the award for his work as a TA and an Instructor-G in the past four years: TA for 6.241 Dynamical Systems and Control, 6.251 Linear Programming, and 6.003 Signals and Systems (two semesters), and an Instructor-G for 6.003 (two semesters).
Omer received his undergraduate and master's degrees from the University of Sarajevo, Bosnia-Herzegovina, where he also worked for several years in both academia and industry. He is currently finishing a PhD in the Department of Electrical Engineering and Computer Science (EECS), advised by Prof. Alexandre Megretski. The goal of his research is to use techniques of robust control and nonlinear feedback design to develop efficient real-time realizations of some classes of optimal non-linear digital signal processing systems for communications,where he is particularly interested in methods and algorithms for enhancing the performance of RF circuits.