Printer Installation
Download and start installing the printer driver for Windows.
After accepting Xerox's licensing agreement, a window will open up and start searching for printers on your network.  If you are connected to the wired network in LIDS, you should see a listing for the copier show up after 10 seconds or so of searching: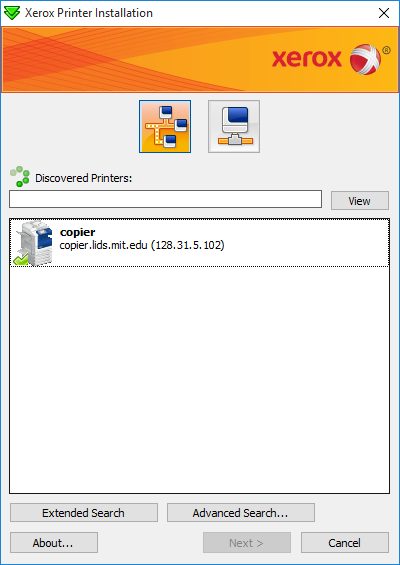 If you are on one of the wireless networks, the copier probably won't show up.  If that happens, click on the second icon in the top of the installation's window and enter copier.lids.mit.edu as shown below and click 'Search':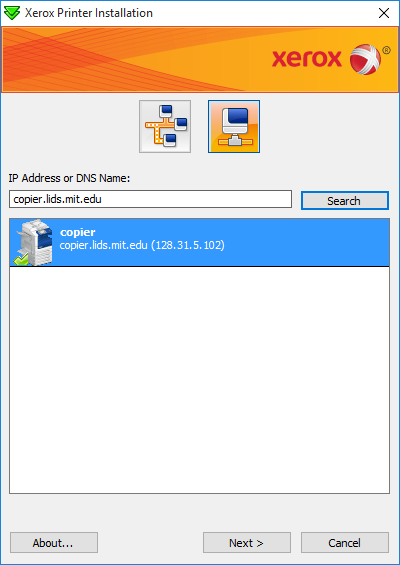 After selecting the copier, click 'Next' and you will see another window that will present you with some installation options.  Enter the information as shown below and click 'Install'.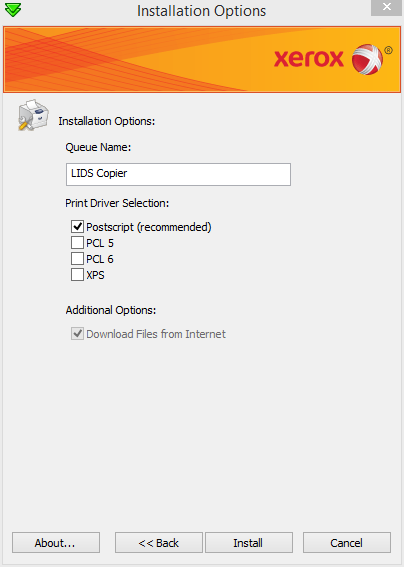 You should see another window pop up after the driver is finished being installed.  Uncheck the box that says 'Set Printer As Default' (unless you want to use this as your default printer), and the box that says 'Print a Test Page' (as we haven't finished configuring the printer).  Click 'Finish', and if you see another window about registering the printer, close it.
Printer Configuration
A passode is required to print to the copier.  To configure your driver to supply the proper code, open the Control Panel (In Windows 8 or 10, look for a key on your keyboard that looks like a Windows logo and hold that and the 'X' key down simultaneously and then select 'Control Panel' from the menu that pops up.  In Windows 7, click on the Start button and select 'Control Panel'.)
Then click on 'Devices and Printers', and look for the printer we just installed (labeled 'LIDS Copier', if you followed the instructions above).  Right-click on that printer and select 'Printer Properties'.
In the window that pops up, select the 'Configuration' tab, then look for the 'Accounting' section and next to 'Accounting Codes', click on 'Setup'.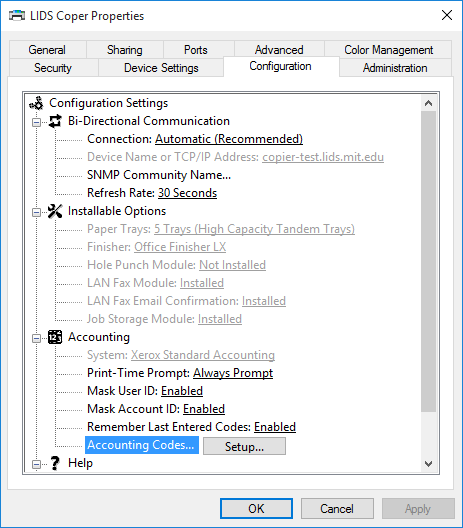 Enter the code you received from your Administrative Assistant into the User ID field, and make sure 'Default Group Account' is selected.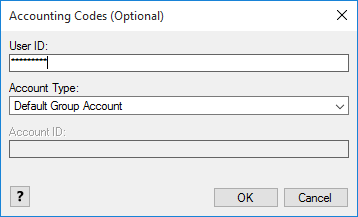 Click on 'OK', and then change 'Print-Time Prompt' to 'Do Not Prompt' (the settings should be the same as what is shown in the image below).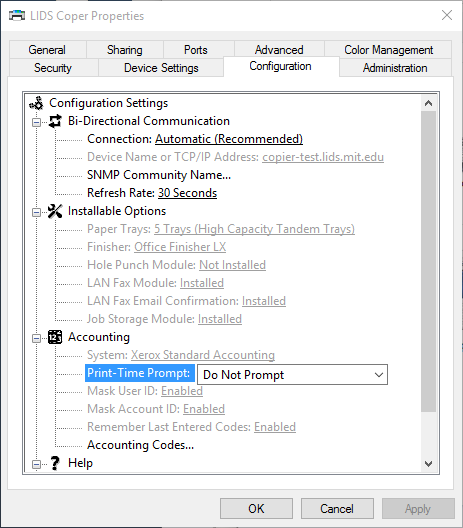 Click OK, and try printing something.
Please email Brian if you run into any problems or have any questions.