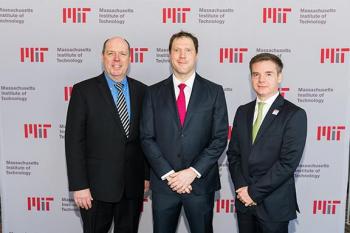 March 17, 2017
Brian Jones, the System Administrator for LIDS, was the winner of a 2017 MIT Excellence Award for Serving the Client, which he received in a campus-wide ceremony on March 16, 2017.
Administered through MIT's Human Resources Department, "the MIT Excellence Awards are among the highest honors awarded to MIT staff, and acknowledge the extraordinary efforts made in the spirit of fulfilling the goals, values, and mission of the Institute." 
Brian received this award for his consistently exceptional service to to the LIDS community:
Brian is continually taking on new responsibilities because he recognizes a need, a gap, or a problem that should be addressed—and he addresses it by taking the challenge under his wing.

His colleagues shared these observations about Brian:

"Brian foresees the hidden problems that may arise from pursuing easy solutions to IT challenges."

"Brian knows how to explain technical issues in layman's terms without talking down to those with elementary knowledge."

"Brian played a key role in reinventing our web presence. The website is now a crucial resource and has helped reestablish LIDS as one of the most important centers in the world for research in the analytical decision and information sciences."
Read Brian's full citation HERE.
Read the MIT News article on this year's Excellence Awards ceremony HERE.