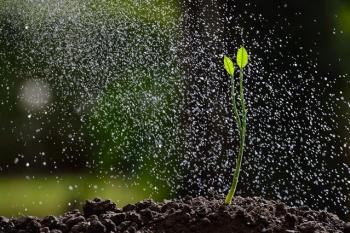 Article Author
Date Published
May 25, 2018
Link to Original Article
Today, the Abdul Latif Jameel World Water and Food Security Lab (J-WAFS) at MIT announced the award of over $1.3 million in research funding through its seed grant program, now in its fourth year. These grants, which are available to the MIT community, are the cornerstone of MIT's Institute-wide effort to catalyze solutions-oriented research in water and food systems that target the safety and resilience of the world's vital resources. 
This year, seven new projects led by eleven faculty PIs across six MIT departments will be funded with two-year grants of up to $200,000, overhead free. The winning projects include a silk-based food safety sensor; research into climate vulnerability and resilience in agriculture using biological engineering as well as crop modeling and sensors; an archeological and materials engineering approach to understanding fertile tropical soils; and three different strategies for water purification and management.
The reach of the J-WAFS's seed grants across the Institute is wide and reflects how faculty from all schools at MIT are invested in addressing the critical challenges that face our most essential global resources. This J-WAFS call for seed research proposals attracted 54 principal investigators, nearly twice the number that submitted proposals in 2017. What is more, 38 of these PIs were proposing to J-WAFS for the first time. "The J-WAFS seed grants continue to stimulate new thinking about how to address some of our most serious water and food problems, whether by new junior faculty at MIT or senior professors," noted Renee Robins, executive director of J-WAFS.   
Faculty from six departments were funded under this year's awards, including the departments of Civil and Environmental Engineering, Chemical Engineering, Earth, Atmospheric and Planetary Sciences, Materials Science and Engineering, Electrical Engineering and Computer Science, and Mechanical Engineering. 
New approaches to ensure safe drinking water
The problem of arsenic contamination in water occurs throughout the globe, and is particularly extreme in South Asia, where over 100 million people in Bangladesh, Nepal, India, Cambodia, Pakistan, Vietnam, and Myanmar experience daily exposure to dangerous concentrations of arsenic that occurs naturally in groundwater. Yet the poorly understood behavior of arsenic in groundwater makes it challenging to identify safe sources of drinking water. Charlie Harvey, professor of civil and environmental engineering, has conducted extensive field research on  this issue. With J-WAFS funding, Harvey will consolidate data and develop models to identify and disseminate more effective groundwater management strategies that take into account how and where dangerous concentrations of arsenic exist.      
Julia Ortony, the Finmeccanica Career Development Assistant Professor of Engineering in the Department of Materials Science and Engineering, will be taking a different approach to arsenic contamination. Her lab develops molecular nanomaterials for environmental contaminant remediation. A J-WAFS seed grant will support her development of a robust, high surface-area material made of small molecules that can be designed to sequester arsenic from drinking water. 
Boron is an essential micronutrient for both plants and animals, but becomes toxic at higher concentrations. However, due to its small molecular size and un-charged chemical structure, it is particularly difficult to remove with standard water purification technologies. Zachary P. Smith, the Joseph R. Mares Career Development Professor in the Department of Chemical Engineering, is taking advantage of advancements in molecular level synthesis of metal-organic framework (MOF) materials to open the door to a new generation of highly selective membranes for water purification and desalination that can remove boron. Leveraging techniques and expertise at the interface of inorganic chemistry, materials science, and chemical engineering, Smith aims to achieve technical breakthroughs in water purification with this J-WAFS funding.
Improving understanding of soil and climate impacts on agriculture for improved crop production
Climate change is bringing temperature and precipitation changes that will increasingly stress the crops our global food system depends on, and these changes will affect regions of the world differently. Breeding plants for increased resilience to stressors such as drought is one solution, but traditional breeding approaches can be extremely slow. In part, this slowness results from the complexity of plants' response to environmental stress. David Des Marais, assistant professor in civil and environmental engineering, and Caroline Uhler, assistant professor of electrical engineering and computer science want to better understand this complexity in order to improve future practices to breed plants for stress tolerance. By combining Des Marais' expertise in plant-environment interaction and sustainable agriculture with Uhler's statistical approaches to studying networks, the team will develop new analytical tools to understand the structure and dynamics of the gene regulatory networks that plants use to perceive — and respond to — changes in the environment. 
Dara Entekhabi, the Bacardi and Stockholm Water Foundations Professor in the departments of Civil and Environmental Engineering and Earth, Atmospheric and Planetary Sciences, is taking another approach to understanding the impacts of climate on agricultural production. The project, in collaboration with research scientist Sarah Fletcher from MIT's Institute for Data, Systems, and Society, is focused on Sub-Saharan Africa. This region is experiencing very high population growth, and with its largely rain-fed agriculture is particularly vulnerable to anticipated temperature and precipitation changes brought about by climate change. The MIT research team is leading an academic-industry partnership that seeks to understand how crop production in the region responds to year-to-year variation in precipitation in order to assess the future of food security in Africa. They will collaborate with Radiant Earth, a startup that uses a geospatial imagery technology platform to capture and understand the impact of social challenges in the developing world, to develop a better understanding of the impact of climate on food security in Sub-Saharan Africa. 
A very different approach to improving agricultural productivity involves better understanding and managing soil fertility. In another innovative multidisciplinary project, three PIs whose expertise spans geoscience, archaeology, and materials engineering will collaborate to improve our understanding of extensive deposits of rich soils known as terra preta ("dark earth" in Portuguese) in the Amazon Basin that pre-Columbian societies created and cultivated between 500 and about 8,700 years ago. Many tropical soils are nutrient-poor and contain little organic carbon, but terra preta is so carbon-rich and fertile that it is still farmed (and destructively mined) today. Researchers are now attempting to reproduce terra preta as part of a strategy for sustainable tropical agriculture and carbon sequestration. A team consisting of Taylor Perron, associate professor in the Department of Earth, Atmospheric and Planetary Sciences, and Dorothy Hosler and Heather Lechtman, both professors of archaeology and ancient technology in the Department of Materials Science and Engineering, aims to inform agricultural practices in tropical developing nations by investigating how the rivers of the Amazon region influenced terra preta formation.  
Using edible food safety sensors to reduce food waste and disease
While strategies to improve agricultural productivity are critical to global food security, minimizing food loss from farm to table is also considered to be necessary if we are to meet our future food needs. Cost-effective and easy-to-use methods of detecting food spoilage along the food supply chain can help. A. John Hart, associate professor of mechanical engineering, and Benedetto Marelli, the Paul M. Cook Career Development Professor in the Department of Civil and Environmental Engineering, have teamed up to find a solution. J-WAFS seed funding is supporting the development of a silk-based food safety sensor, visible to the naked eye, which can change color based on its interaction with common food pathogens. The sensor will take the form of printable inks that are stable under extreme temperatures and also edible. Their aim is to print on food packaging as well as directly on food in order to enable point-of-use detection of contamination and food spoilage for meat and dairy products.
With these seven newly funded projects, J-WAFS will have funded 30 total seed research projects since its founding in 2014. J-WAFS' director John Lienhard states that "investing in research results in creative innovations in food and water that will enable a sustainable future.  Further, these seed grants have repeatedly been leveraged by their recipients to develop significant follow-on programs, that further multiply the impact." 
Reprinted with permission of MIT News.