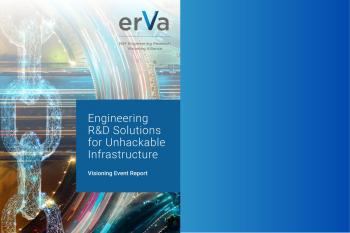 April 21, 2023
What are the engineering research breakthroughs needed to create an unhackable infrastructure? This was the question put to a diverse set of researchers and experts brought together by the National Science Foundation Engineering Research Visioning Alliance (ERVA) for a visioning event held last summer. Hosted by MIT, the event was co-chaired by LIDS Principal Investigator Saurabh Amin (Department of Civil and Environmental Engineering).
Event participants, instructed to think in terms of high impact and proactive design, identified engineering research priorities in five key areas: Human-technology interface considerations; Measuring and verifying security; Future approaches to autonomous security; New approaches to resilience in interdependent infrastructures; and Architecting trustworthy systems. A report which details these priorities, Engineering R&D Solutions for Unhackable Infrastructure, was released by ERVA this spring.
"Anticipation and preparation for security threats to physical and virtual spaces has emerged as a critical national and international priority," said Amin, "The research priorities described in this report provide the necessary steps we must take to mitigate the economic and security threats inherent in cybercrime and secure both physical and virtual spaces."
The aim of the report is to catalyze researchers and sponsors in the public, private, and non-profit sectors to lay the foundations for the multidisciplinary engineering research that will advance the security and resilience of tomorrow's cyber-physical infrastructures.
Engineering R&D Solutions for Unhackable Infrastructure is the third report released by ERVA, a five-year initiative funded by the NSF to help identify societally impactful future engineering research directions.
To read the full report or an executive summary visit ERVA's website.
To learn more about the report and ERVA watch the recent National Academies of Sciences, Engineering, and Medicine Government-University-Industry Research Roundtable (GUIRR) webinar.