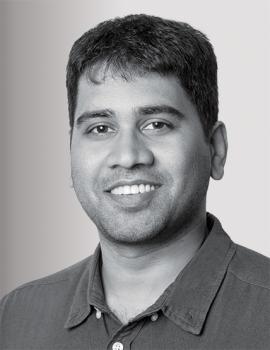 May 15, 2017
Link to Original Article
Fast Company's Most Creative People In Business 2017
LIDS Principal Research Scientist Kalyan Veeramachaneni was named one of the 100 most creative people in business 2017 by Fast Company: "These inspiring leaders are shaping the future of business in creative ways." Veeramachaneni was selected for his work "putting humans and AI on the same team."
Cyberattacks are a constantly evolving menace that can't be contained by humans alone. MIT research scientist Kalyan Veeramachaneni has devoted much of his career to helping cybersecurity experts and artificial intelligence systems work in tandem to stop hackers. In 2016 he launched PatternEx, a security startup that uses artificial intelligence to detect potential threats, then turns those findings over to human analysts for verification. Once the analyst has weighed in, the system learns from this feedback, helping it turn up fewer false positives over time. According to the company, PatternEx is able to predict cyberattacks with 85% accuracy. "It's not about completely replacing the person," says Veeramachaneni. "It's about saving them time and work." He also cofounded another startup in 2015: Feature Labs uses AI to do the work of a data scientist, helping companies parse their vast troves of intel. 
Learn more about Veeramachaneni's work HERE.