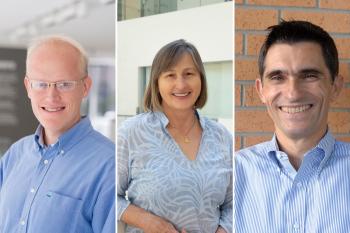 June 24, 2020
A Lehigh University team, led by LIDS Visiting Scholar Alberto Lamadrid (Lehigh University) and with MIT LIDS co-PIs Principal Research Scientist Audun Botterud, Senior Research Scientist Marija Ilic, and Professor Patrick Jaillet, has been awarded $2.5 million by the U.S. Department of Energy's Advanced Research Projects Agency-Energy (ARPA-E). The team received this competitive award from ARPA-E's Performance-based Energy Resource Feedback, Optimization, and Risk Management (PERFORM) program, which works to develop innovative management systems that represent the relative delivery risk of each grid asset, like wind farms or power plants, and balance the collective risk of all assets across the grid.
The team's project, "Application of Banking Scoring and Rating for Coherent Risk Measures in Electricity Systems," is a collaboration between Lehigh, MIT, Argonne National Laboratory and Lawrence Livermore National Laboratory. Besides the co-PIs, the MIT team includes LIDS Postdoctoral Associate Stefanos Delikaraoglou.
The project aims to develop a multi-layered framework to help electricity market operators schedule resources in a way that allows for economically viable integration of new complexity in the system — such as variable energy supplies from renewable sources, distributed energy resources, and new storage technologies. The framework will include quantitative risk measures, planning and operational methodologies that utilize these risk measures, and development of new market instruments (combining financial and physical assets) that mitigate risk. Leveraging the use of statistical estimation used in banking and finance (including scoring and ratings) and advanced optimization methods used in dispatching of power systems, the framework can be seamlessly incorporated into current electricity system operations.
"Our grid is a crucial asset in supplying reliable power to millions of Americans across the nation." said Advanced Research Projects Agency-Energy Director Lane Genatowski. "These PERFORM teams will develop the tools to further optimize renewable resources into the grid, improving reliability, reducing energy imports, and further strengthening a pathway to sustainable energy independence."
Learn more about the PERFORM program and projects here.