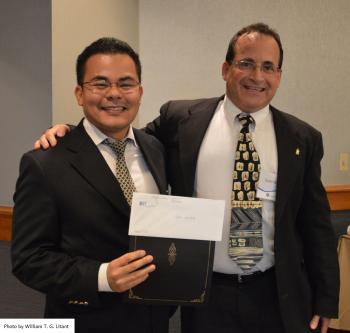 May 18, 2018
It is our pleasure to share the news that LIDS student Igor Kadota received the Aeronautics and Astronautics Graduate Teaching Assistantship Award, given annually to a graduate student "for conspicuous dedication and skill in helping fulfill a subject's educational objectives."
Igor received this award for his work as a TA for 16.36 - Communication Systems & Networks for the past three spring terms, which included the development of a Software Defined Radio laboratory for the course.
Igor received his undergraduate degree and a master's degree from the The Instituto Tecnológico de Aeronautic in Brazil, as well as a second master's degree from MIT in 2016. He is currently pursuing a PhD in Aeronautics and Astronautics. His research is on Communication Networks, particularly in the development of network control algorithms to improve the Quality of Service in wireless networks.