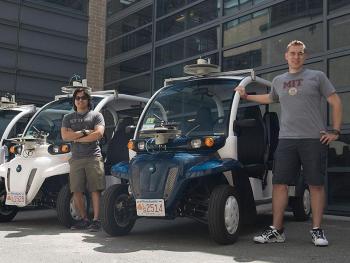 July 28, 2016
Some students, faculty, and staff at the Massachusetts Institute of Technology next semester won't need to worry about hoofing it to get around parts of campus. Instead, they can hail a ride from a vehicle that looks like a high-tech golf cart.
Researchers from MIT, in partnership with Ford Motor Co., will roll out three on-demand electric vehicle shuttles at the school in September. Around 50 to 100 users will be tasked with testing the efficiency of the cars by using a smartphone app to request a lift and get to where they're going. Think of it as MIT's very own Uber, but with tiny cars and on school grounds.
The introduction of the vehicles isn't merely an opportunity to offer a luxury service to a select group of people from MIT's community — it's for research purposes. The research is being headed by the Aeronautics and Astronautics Department's Aerospace Controls Lab. The goal is to improve and better understand vehicle mobility and demand in dense urban areas with lots of people.
"Through the mobility-on-demand system being developed for MIT's campus, ACL can investigate new planning and prediction algorithms in a complex, but controlled, environment, while simultaneously providing a testbed framework for researchers and a service to the MIT community," said ACL's director, professor Jonathan How, in a statement.
MIT researchers and Ford have been working on the project for five months leading up to the launch.
Using Light Detection and Ranging sensors, or LiDAR, and cameras affixed to the vehicles, researchers can log people's movements at different locations on campus. That data helps them predict where the highest demand for services will be, and make routes to shuttle users from place to place more efficient. Moving forward, they will also take into account how class schedules and weather conditions will impact where people are located.
The app will provide an estimate of ride time and an indication of whether a ride can be given, researchers said.
How said in an e-mail that they're targeting the eastern end of MIT's campus for now, which will play a factor in selecting who will get access to the service when it debuts.
"We will be looking for volunteers, and if oversubscribed, will choose based on where the people live [and] work," he said.
Drivers will be behind the wheels of the carts, which will be built to withstand New England's brutal winter weather. But in the future, How said, they hope to make the vehicles autonomous, helping to further the car company's development of driverless and driver-assisted automobiles.
"That is the plan," How said. "But the original efforts have focused on developing the service."\
---
This article was written by Steve Annear and initially appeared in the Boston Globe (original article, website might require a subscription).