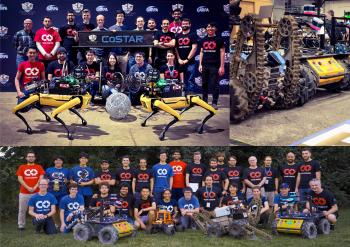 March 6, 2020
We are thrilled to share the news that Team CoSTAR, a multi-university team led by NASA's Jet Propulsion Laboratory (JPL), has won first place in the Urban Circuit of DARPA's Subterranean Challenge! LIDS faculty member Luca Carlone is the MIT lead of the team, which also includes LIDS student Yun Chang.
The DARPA Subterranean Challenge (SubT Challenge) is intended to develop technology for first responders and the military to map, navigate and search underground, as well as for future NASA missions to caves and lava tubes on other planets.
In the Systems competition of the Urban Circuit, 10 teams from top universities and companies around the world navigated two courses winding through an unfinished nuclear power plant in Elma, Washington. The objective was to find and accurately identify artifacts in the power plant that represented items found in an urban underground setting.
Dr. Timothy Chung, program manager for the Subterranean Challenge in DARPA's Tactical Technology Office, spoke to the significance of the Challenge in the press release about the Urban Circuit: "Teams are under tremendous pressure in the SubT Challenge, not just because of the prize money at stake, but because of the significance of winning a DARPA Grand Challenge, events that have a history of jumpstarting innovation. At the core of the SubT Challenge is the mission to face an unknown environment and respond to changing situations."
In addition to coming in first place in last week's Urban Circuit, Team CoSTAR, a collaboration between NASA JPL, MIT, Caltech, KAIST, LTU, and industry partners, including Clearpath Robotics and Boston Dynamics, came in second place on the Challenge's Tunnel Circuit. The next phase of the competition, the Cave Circuit, will take place in August 2020.
Read IEEE Spectrum's coverage of the Urban Circuit and see video recaps here: https://spectrum.ieee.org/automaton/robotics/robotics-hardware/late-nights-cool-hacks-and-more-stories-from-the-darpa-subt-urban-circuit
Learn more about Team CoSTAR here and the SubT Challenge here: https://costar.jpl.nasa.gov/