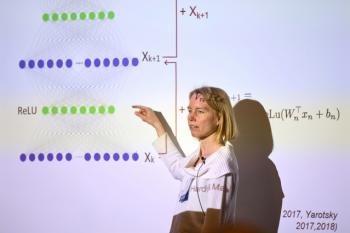 March 22, 2019
LIDS Affiliate Member Stefanie Jegelka was a main speaker at the third annual Women in Data Science (WiDS) Cambridge conference, which took place on March 5. She, along with LIDS faculty member Caroline Uhler and LIDS Affiliate Member Tamara Broderick, were on the steering committee that helped shape this event at its inception in 2017. They have continued to play a major role in its success as members of the organizing committee.
Scott Murray I IDSS (see original article)
The MIT Institute for Data, Systems, and Society (IDSS) convened professional data scientists, academic researchers, and students from a variety of disciplines for the third annual daylong Women in Data Science (WiDS) conference in Cambridge. WiDS Cambridge is one of many global satellite events of the WiDS conference at Stanford University, where attendees join a global community of data science researchers and practitioners. The conference is open to anyone interested in data science, but strives especially to create opportunities for women in the field to showcase their work and network with each other.
"I think WiDS is a great opportunity to bring together women at all professional levels — students, postdocs, faculty, and professionals in industry — who are working in data science, building community, and learning from a wide variety of perspectives," said Stefanie Jegelka, an IDSS affiliate faculty member with the Department of Electrical Engineering and Computer Science (EECS). Jegelka is an MIT WiDS planning committee member who also gave a talk exploring the properties of neural networks, focusing on ResNet architecture and neural networks for graphs.
Topics at this year's WiDS Cambridge included artificial intelligence, bias in algorithms, prediction and forecasting, and developing a better understanding of machine learning and neural network properties. WiDS speakers work in a variety of fields, including health care, criminal justice, and business administration. Esther Duflo, an IDSS affiliate with the MIT Department of Economics, talked about using machine learning in poverty alleviation. Machine learning, she argued, has more use in development and economics than prediction. "Machine learning and randomized control trials can be useful complements," she said.
The wide array of applications for data science was also on display during the conference's poster session, where almost 30 students presented their research. This session provides newer practitioners the chance to hone their communication skills, get feedback on their work, and form useful connections for their career. Marie Charpignon, a student with the IDSS social and engineering systems doctoral program, offered an example of this kind of connection. "During WiDS, someone stopped by my poster on the modeling of Ebola spread and offered to connect me with New England Complex Systems — it is right across the street from MIT, but I simply did not know," she said.
WiDS attendees from industry similarly have the opportunity to learn from cutting-edge academic research and strengthen industry connections with academia. "It was great to see the WiDS conference showcasing data scientists using their skills to improve the world," said Michael DeAddio, president and chief operating officer of WorldQuant, a sponsor of WiDS and industry partner of IDSS. "From supporting disaster recovery efforts, to improving predictions for health outcomes and developing more accurate models for recidivism — this is a great platform to highlight such efforts and inspire women interested in data science."
Adds Charpignon: "Meeting with people who inspire us and that we can inspire back is what WiDS is all about."
WiDS Cambridge was co-hosted by Harvard University's Institute for Applied Computational Science at the Microsoft Research New England NERD Center.